I don't know what annoys me most about this commercial for Joe's Crab Shack which incessantly plays on all channels, at all hours.
I'm not sure if it's the bad acting all around, the need for another "dumb blonde" stereotype, the sexual undertones where it's just not needed, or the fake laughing at the end.
And they managed to squeeze the whole production into a 15-second spot. 
Having never been to a Joe's Crab Shack, I can't vouch for the food but their commercial bombs. See for yourself:
_____________________
Next up: Ruby Red Grapefruit.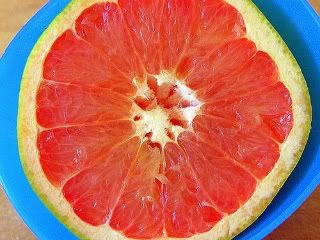 I can't get enough of it. I've loved it for years but only lately has it become a real go-to for me. I know for some people it's an acquired taste but if you really haven't tried one and you're scared to- I encourage you to give it a shot. Yes, it tastes like grapefruit which is usually the make or break of the whole experience. You either love grapefruit or you hate it. There's no gray area. But if you're a citrus fan in general, you should give grapefruit another shot. Sometimes when I'm at a diner, I'll passup on the pancakes or waffles and order a grapefruit instead. And I don't even put sugar on it-- in my opinion, it doesn't need it. It's already sweet enough. Not to mention it's really good for you! Click
this link
to see for yourself!
___________________________
Next up: Starbucks baristas.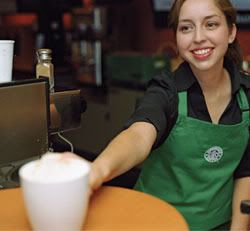 So... I love Starbucks and I even have a
Starbucks Gold Card
... however... the customer service of baristas at many of my local stores is so hit-or-miss for me and it's really disappointing. Especially since one of the pillars of the whole Starbucks brand is its' exceptional customer service, quality, and willingness to accomodate custom orders (I'll have an iced venti double soy half caf latte dry with an extra shot please.. you get the idea) and I just feel like for the prices they charge-- their baristas should be constantly ontop of their game.
I bring this up because I've been consistently disappointed with the customer service at the Oakhurst, NJ location. It's very close to Joey's house so we end up there fairly often but this is a location where the employees clearly hate their jobs. I don't want to generalize because of course I'm not there 24/7 and I'm sure some of the employees are lovely people and wonderful to customers. But more often than not, I get stuck with someone who'd rather do ANYTHING but service with a smile. I get blank stares, dead emotion, mumbled responses, annoyed sighs, and more. Unacceptable! Last time I was there, we actually made a complaint to the supervisor so I'm hopeful things will start to improve. 
_______________________
Next up: Late night trips to Baskin-Robbins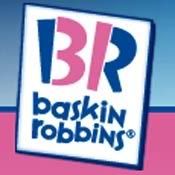 So the other night after going out to dinner, Joey, his sister Mary and I decided to get ice cream. It was a Sunday night, around 9pm and we had a really hard time finding a place that was open. So unfortunately we had to settle for the Dunkin Donuts/Baskin-Robbins combo on Main Street in Asbury Park. We pulled up to the drive thru and ordered a small hot chocolate, a medium Reese's sundae & a kids cup of soft-serve vanilla w/ rainbow sprinkles. We are told to pull ahead for our total. So we did. Where we sat at the drive-thru window for TWELVE minutes!!! I admit, I didn't knock on the window because we were just sitting there laughin in disbelief... might I add, they were not busy-- had at least 2 people working, and only 1 person on line inside... there was no excuse!!! Finally, after paying and getting our order, I said to the lady, "you know, we waited her over ten minutes" and didn't get much response in return. Annoyed, we left, grateful that at least we had our ice cream. After driving the remaining few blocks to Joey's house, we opened our bag and Mary discovered that her kids cup of soft serve vanilla w/ rainbow sprinkles looked like this: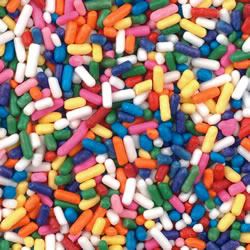 SANS ice cream!!!! They gave her a kids cup full of sprinkles only! No ice cream! I wish I would have taken a picture of her face which was a combination of confusion, shock, disappointment and flabbergast. I picked up Joey's keys and immediately declared, "Let's go Mary, we're going back." 
We drove back and went inside this time... where we had to wait a long time for someone to finally come to the counter to help us. I explained what happened and the gentleman didn't even flinch or apologize or show any emotion at all other than to call the manager-- who then directed him to basically just do whatever to get us out of the store, I assume. He re-made the order the right way and as we were leaving we heard the manager ask him, "so what happened?" "oh well they ordered a soft serve vanilla with rainbow sprinkles but i guess you only gave them just sprinkles by itself" "THAT'S WHAT THEY ORDERED!!!!!!!"
oh. really? that makes sooooo much sense.
also-- my Reese's sundae (when i eventually ate it) was gross and the ice cream tasted old and frostbitten, and the reese's cups bland and mealy.
won't be back!
_______________________
Next up: MOVIES! "Observe & Report" (which includes a critique of the Ocean, NJ Middlebrook Galleria movie theatre), "Every Little Step" (at my adorable Clearview Arts Cinema in Red Bank, NJ) and "I Love You, Man" (at AMC theatres @ Monmouth Mall in Eatontown, NJ)
Observe and Report



(Starring: Seth Rogen, Anna Faris, Ray Liotta & Celia Watson)
Very funny but also

very

dark. Anna Faris should have never screwed up her lips because on a giant movie screen they are very scary-- even though she was funny in the film. Seth Rogen, as always, was intense yet laid back... hilarious. Standout performance by Celia Watson as Seth Rogen's alcoholic mother. If you liked 

Pinepple Express,

 you'll probably like this too. I must mention that we saw this film at Clearview Middlebrook Galleria cinemas in Ocean, NJ. We go here because it's close to Joey's house... that's really the only reason. The place is not very clean-- the bathrooms are atrocious. The seating and general feel of the theatre is not modern but it's also not charming. And the customer service is heinous across the board... from the ticket sellers to the ticket takers to the terrible terrible terrible concession stand workers. Sloppy uniforms, foul language between themselves and friends, leaning over on the counters, barely acknowledging your existence as a customer, and slowwwwww. 



Every Little Step



(Starring: many Broadway performers, composers, lyricists, producers, directors)
I absolutely loved this film. It follows the plight of real-life dancers as they struggle through auditions for the 2006 Broadway revival of "A Chorus Line" while also investigating the history of the show and the creative minds behind the original and current incarnations. I knew quite a few of the people in the movie and it was awesome to see them up on screen battling it out for a spot in the cast. Ironic twist to see dancers in the audition process of a show that is about the audition process of a show! Beautifully shot and heart-poundingly exciting, it was also very moving and emotional at times. Many behind-the-scenes audio tapes and interviews accompanied the documentary and I can't wait for it to come out on DVD so I can buy it. Saw it at Red Bank's Clearview Arts Cinema, which is always a favorite.



I Love You, Man



(Starring: Paul Rudd, Jason Segel, Rashida Jones, Jaime Pressly, Andy Samberg)
Had me laughing out loud throughout. I love Paul Rudd and I love that he never seems to age. He was really good at playing a naive awkward guy. Jason Segel was hilarious and this was actually the first thing I've seen him in so it was a great introduction for me. I especially appreciated the random film references-- such as Andre the Giant's voice in

The Princess Bride

 of all things-- as well as the types of things my friends and I say to each other, such as the moment when Paul Rudd made an awkward attempt to say something funny but failed miserably, to which Jason Segel responded: "I still wanna hang out... despite that bad joke." Saw it @ AMC theatres @ Monmouth Mall in Eatontown... no complaints this time around. THIS time around!

--A.